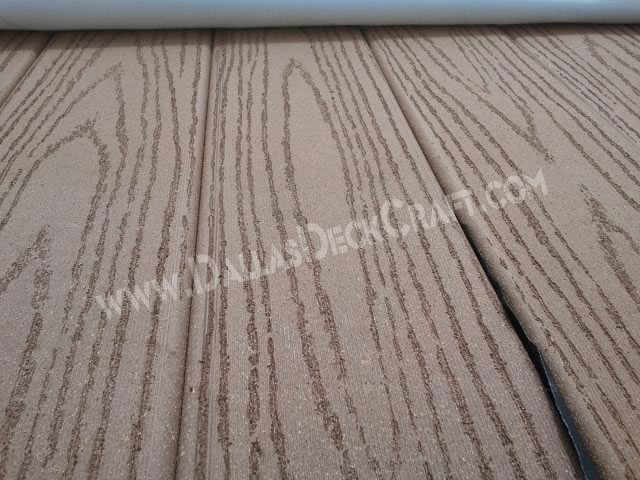 Composite Decking
As part of the building industry's constant quest to make things better, more convenient and easier, composite decking was developed. There used to be just one option for decking—wood—but now there are a few choices available to suit any homeowner's budget and preferences.
Wood decking needs regular maintenance and care, such as annual staining or refinishing, and this can be tedious for some people. Although there are kinds of wood decking materials such as ipe and other tropical hardwoods that require less maintenance, owning a wooden deck entails responsibilities.
Recognizing that a lot of homeowners might appreciate options that require less maintenance, some entrepreneurs came up with alternatives using materials such as aluminum, vinyl, and plastic. But the most popular option in the decking industry that has seen a lot of demand in the last decade is composite wood decking.
Also known as synthetic decking, wood-polymer composites and cheap composite decking, composite is quickly becoming the top decking material choice for many homeowners and builders.
Here are the reasons why:
It is environmentally friendly
Lightweight
Stain resistant
Insect/borer resistant
Weather resistant
Will not rot or splinter
Very low maintenance
Good workability and can be easily shaped
Does not need paint or stain
What in the World is Composite Decking?
Wood composite decking is a man-made material made from combined materials such as wood and plastic. First introduced into the decking market in the early '90s, these materials are processed to emulate the appearance of wood. The wood component of this combination typically consists of lumber byproducts such as wood fiber, sawdust and chips.
The plastic components are often made from both recycled and virgin thermoplastic materials that include ABS (Acrylonitrile Butadiene Styrene), PVC (Poly Vinyl Chloride) and PP (Polypropylene). During production, these components are added with preservatives and pigmentation, and then heated in high temperatures to thoroughly melt.
How do They Make it?
There are two major production methods that also affect the strength and quality of the composite decking.
The first process is called extrusion, wherein the raw materials are mixed and melted and then forced through an opening that has the shape and size of a decking board. This process solidifies the mixture into a finished product that has a consistent shape and size.
The other process is called compression molding, wherein the molten materials are combined and placed on a wood grain mold. The materials in the mold will then be compressed under extreme pressure and heat to create a strong physical bond. They are then formed into lengths simulating wooden boards while they are being cooled.
The finished product can have a beautiful, wood-like look, and they often come in a wide variety of grain patterns, colors and composite deck prices. This type of artificial wood decking can give a homeowner the freedom to build a deck without the maintenance, as composite decks don't have to be sanded, painted or stained.
To Cap or Not to Cap
There are actually two types of composite or synthetic decking: capped composite and uncapped composite.
Uncapped
This is the first generation type of composite decking and is less expensive than the capped type. It never needs to be refinished or stained, nor does it splinter or twist. It is, however, more prone to stains and fading, so it has to be periodically cleaned to maintain its beauty. It is highly recommended that the surface be swept clean, soaped, scrubbed and hosed down every six months.
Capped
This is the next generation composite decking. It has a plastic surface that serves as protection of the wood fibers from being exposed to the elements. It also prevents the boards from fading and staining. Capped composite decking is not porous, which means that liquids will bead on the surface and will not easily dry so the surface tends to be slippery when wet.
How to Choose the Best Composite Decking
There are a few important factors that should be considered when choosing the best composite deck for your home. These include composite deck prices, color availability and type of fastener system used. You can also narrow down your search for the best product when you determine your desired deck texture, deck location and how you intend to use the deck.
There are a few big names in the composite decking market, such as Trex composite decking, Evergrain, Veranda Decking, CorrectDeck and TimberTech. The composite market is constantly evolving as manufacturers continue to develop their products to provide homeowners and builders with the best combination that will eliminate stain, mold and fading issues from wood composite decking.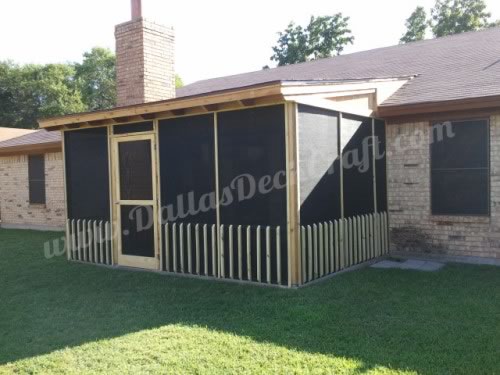 Dallas, Texas Screened In Porch
Thinking about building a deck in Dallas, Texas, but also considering a screened in porch as a complement to your current patio? Decks and other outdoor living areas provide, dollar for dollar, an outstanding return on investment. The cost of your home usually appreciates by the cost of your outdoor edition, and the good times and memories you create are priceless.
The Benefits of a Screened In Porch in Dallas, Texas
But remember that old saying? You know, how everything is bigger in Texas? Well that includes those bird-sized Dallas mosquitoes. And you may have the most beautiful and spacious outdoor deck, porch or patio in the world.
But if you have to retreat inside when darkness falls, or you and your friends are constantly swinging and swatting at mosquitoes and other flying pests while you are trying to have a good time, considering screened porches makes a lot of sense.
If you sat down and made a list of exactly what the perfect outdoor entertainment center would have, it might look something like this:
A mosquito and bug-free area
Lighting to keep the good times going after nightfall
Ceiling fans to cut through the stifling Dallas humidity
A big-screen TV and music system
Plenty of room for dining and seating
A Screened In Porch Has Got You Covered
All of these things can be accomplished with the addition of a screened porch. And when you integrate a beautiful and rugged wood like rough cedar into its construction, you create an attractive and durable screened in porch, patio or deck that will keep the bugs out and the wonderful memories going for years.
Also, while outdoor decks in the open air are certainly enjoyable, they cannot provide many of the benefits that screened porches offer. Looking through the short list of desirable outdoor entertainment features we mentioned above proves this.
If you want a television or stereo to accompany you on your deck, you have to take it outside and bring it back in every time you use it. And when night comes, that is often times the end of your outdoor entertainment. The screened porches offer the ability to add ceiling fans to improve your environment, lighting to keep you going long after it gets dark, and a bug-free area for so many activities.
Also, a lot of people don't know that seasoned deck builders and other craftsmen with years of experience providing you with unforgettable outdoor memories also know a lot about screened porches. Did you know that there are literally dozens of types of screen to choose from? What is the best type for your particular situation?
These are questions best answered by a professional deck builder and screened porch veteran. With several decades of outdoor entertainment center building experience, we would like to help you craft the perfect screened in porch designs for your home.
As Dallas, Texas professional deck builders, we know how much enjoyment and priceless bug-free rewards we have received from our own screened porches. So when you call us today, we will give you an absolutely free estimate that will get you started towards reaping the many benefits that a screened in porch have over a traditional deck.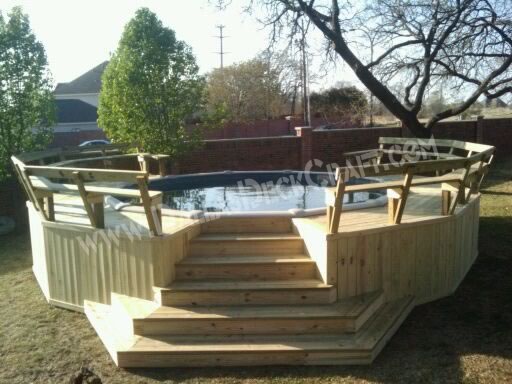 Above Ground Pool Deck Ideas
There are a wide range of above ground pool deck ideas, plans, and materials (round, oval, side, rectangular, concrete, wood, stone, rock, etc.).
Above Ground Pools Are Popular
In backyards all across the U.S., above ground swimming pools are popping up. There are approximately four million of these types of pools in America, and almost 200,000 of them are sold annually. It's really easy to understand why above ground pools are so common: They're inexpensive, easy, and quick to install, and they require hardly any maintenance.
Above Ground Pool Decks Are Essential
In order to the get the most pleasure and enjoyment out of an above ground pool, however, you need a deck that surrounds it. Say goodbye to the pool ladder, and say hello to a fun-in-the-sun get-together hangout spot for your family and friends. It will give you a nice place to wine, dine, sunbathe, and swim–or just visit.
Decks for Above Ground Pools: How & Why
An above ground pool is often put in because a raised platform provides easy access to the pool
Deck contractors can be hired to design, develop, and install an above ground pool deck
For a low price, you can significantly improve the aesthetics, enjoyment, and look of your pool and backyard as a whole
There is usually no need for any excavation
Advantages of an Above Ground Pool Deck
A raised deck will completely negate the need for excavation, leaving your backyard free of shovels, equipment, digging, and damage.
Makes unwanted pool access a lot more difficult for pets and children.
An above ground pool deck has sidewalls that will keep debris and leaves from blowing in.
An Above Ground Pool Deck Makes Backyard Parties More Fun
A beautiful and expansive pool deck is the first thing that guests and family will notice about your pool when they come to visit. An above ground pool deck should be big enough to have plenty of space for lounge chairs, benches, container plants, and anything else-decorative or playful-that would normally be placed on a deck.
An above ground pool deck, with the right planning, can make an above ground pool look like an in ground pool. Or, an above ground pool deck can be built such that that the pool will look raised and keep out unwanted visitors.
Above ground pool deck designs are what really give pools their signature looks. There are hundreds of common designs and thousands of custom-built ideas that planners, builders, and developers come up with every day. Indeed, about 200,000 above ground pools are installed in backyards in America each year. Whether you get a wood, composite, or pressure-treated deck, don't make the decision without consulting deck contractors first. Go over the plans with them, and discuss the advantages and disadvantages of each material. It's not a decision you should make without sufficient consultation.
An Above Ground Pool Deck is a Work of Art
An above ground pool deck, elevated off the ground, can look striking and impressive to backyard guests and family friends. When it comes time for those summertime parties, you'll be thankful that you put in an above ground pool deck.
Above ground pools and above ground pool decks have been mass manufactured since the 1950s. Wise consumers who want the permanent look of an in-ground pool with a lower price tag have historically opted for an above ground pool. Spending money on the deck is a better use of funds, and investing a lot of money in a beautiful and well-designed deck can add a whole new dimension to the look of your backyard and your home as a whole.
If you're not a fan of the above ground look, you can always look into designs that can be sunken–or buried–in the ground. Your house visitors might not even be able to tell it's actually an above ground pool.
A deck can be any shape, e.g., rectangular, oval, or square, while the pool itself is of a different shape.