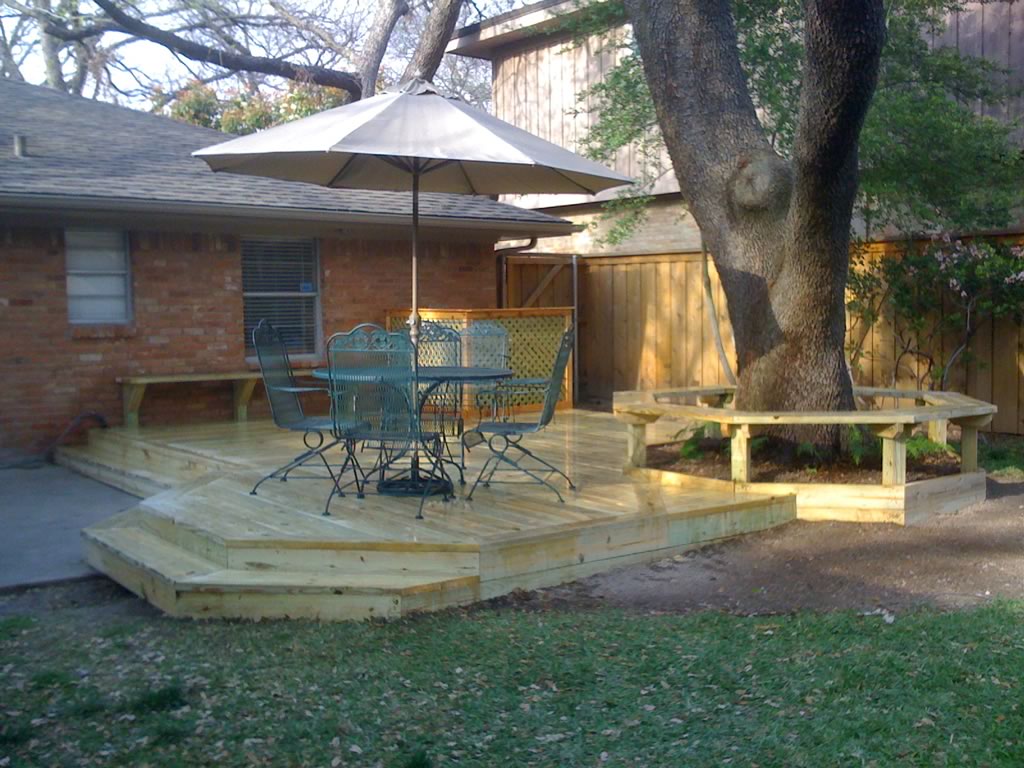 Why Pressure-Treated Decking?
Pressure-treated decking is very popular and can be found at many homes in the Dallas Metro area, but many of us know very little about this favored outdoor building material. Read on and be informed on everything that you need to know about pressure-treated wood deck and whether it should be your choice for your next decking project.
Pressure-treated decks are used in millions of homes all over the United States and has been around for more than 50 years in the building industry. It is sold in most lumber outlets in the country and is a favorite among builders and homeowners alike for its features and benefits.
Pressure-Treated Wood: A Closer Look at the Facts
According to statistics, more than 75% of all the decks in the US are built partially or entirely with pressure-treated wood. They are used for beams, posts and joists mainly for their structural strength and it's natural ability to endure against ground-contact deterioration.
Pressure-treated decking uses a softwood lumber material—usually southern yellow pine decking—that has been chemically treated to withstand decay, termites and rot. It has a natural wood appearance, resilient and highly available. Being very economical, it is also the best choice for homeowners who are looking to build decks for less.
It is called "pressure treated" because of the process it undergoes before it is sold. The pine boards are placed into huge pressurized cylindrical tanks called "retort". These chambers are sealed airtight and they contain chemical preservatives that are then forced into the very fiber of the wood under extreme pressure, resulting to exterior-grade wooden boards that are ideal for deck building and other woodworking projects.
Benefits of Pressure-Treated Decking
Pressure-treated wood deck is ideal for areas where the weather can be unpredictable and harsh, such as parts of Texas like Plano. Properly treated wood is a much less expensive option and offers a lot of benefits including a really long life span, to the tune of 40 years or more.
Here are some of the advantages to using pressure-treated decking.
Longevity—treated wood is highly resistant to damage caused by fungal decay, borers, and rot. This is why many manufacturers offer warranties of up to 40 years for pressure-treated wood products.
Grade Varieties—pressure-treated decking is available in a wide variety of lumber grades to suit the user's needs, such as knot-free grades and close-grained grades. The lumber is distinguished into grades by checking the knots, grain angle, decay, damage warp and wane of the wood. The grades will let the user know if it is structurally sound for a particular application or environment.
Low Maintenance—unlike its exotic counterparts, pressure-treated wood decking requires a little more maintenance. As with any other deck, regular cleaning is very important. It is important to note that while the wood has chemicals that will protect it from rot and termites, moisture damage is still slightly possible. To prevent this, the deck should be maintained with an annual coating of high-quality weather sealant with water repellant and a ultraviolet block to help retain its appearance and longevity. Semi-transparent stain can be included with the above and really brings out the beautiful characteristics of treated pine.
Environmentally Friendly—you won't have to worry about depleting the environment with your option, because pressure-treated decking is environmentally friendly and comes from renewable, plentiful and fast-growing types of wood that are grown on managed timberlands. The preservatives used are typically manufactured from EPA-approved chemicals.
Versatile and Pliant—working with pressure-treated decking is easier than exotic wood. It also has a unique cellular structure that exceptionally holds stains, paints and sealants after an initial weathering period of 4-6 weeks to allow the wood to dry so that it will absorb the sealant better and therefore last longer.
Working with Pressure-Treated Decking
First off, to make sure that your deck is built with the right kind of pressure-treated wood, you should check the label or stamp of the boards and verify the chemical retention level. The higher the number, the more resistant the wood will be against rot and termites.
There is a recommended retention level for each environment and application. For instance, the UC3B category with retention levels of 0.25–0.40 is ideal for decking that is intended for an environment where it will be exposed to prolonged wetting and different weather cycles.
In building a pressure-treated wood deck, lumber manufacturers highly recommend using only hot-dipped galvanized screws, nails, bolts, connectors and anchors. It is also important to remember that wood treatments cause corrosion to aluminum components.
The wood is treated with chemicals, so the builder or homeowner is reminded to wear gloves at work, and to thoroughly wash up before drinking or eating. Safety goggles and a dust mask should also be worn when drilling, cutting or sanding the wood.
You should never cut pressure-treated lumber in an enclosed space, only outdoors, and you should never burn it.
Before painting or staining, pressure-treated decking must be allowed to dry through. The best way to test this is to sprinkle water on the surface of the wood. If it beads up, this means that the wood is still too wet and must be dried further before a weather sealant/stain is applied. If the water is absorbed easily, it means that the wood is ready.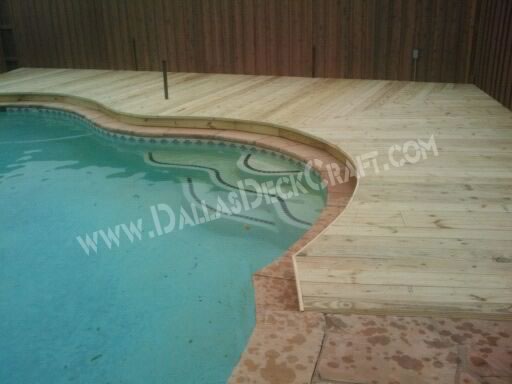 Pressure-Treated Decking – What Your Local Home Improvement Store Doesn't Want You to Know
Did you hear the story about the two Dallas neighbors that used pressure-treated decking to create an outdoor living experience for their families? You are gonna want to hear this, especially if you're planning on building a deck to take advantage of the beautiful Dallas, TX weather.
Bob and Tim live next door to each other. They have a lot of similarities. They are both popular in the neighborhood, have a lot of common friends, and have been working in Rockwall and Collin counties for years.
But there are a lot of differences between these two men as well.
For instance, Bob is the kind of guy who dives into a home improvement project without doing much research. He just wants to get the thing finished. So that is what he did when he built his backyard deck.
Research + Quality Pressure-Treated Decking + Seasoned Professional = Hands-Off Deck Enjoyment
Tim is smarter than that. He knows that outdoor decks can return pretty much all of its cost in improved home value, if the right materials are chosen, and a pro handles the job. And he wants to provide his friends and family with a wonderful outdoor living experience for years, with minimal "pain in the neck" maintenance.
So before Tim rushed out and bought pressure-treated decking material from the nearby big-box retailer, he did his homework. And what he found out was this:
There are different types of pressure-treated woods. If you spend a little more money and get your hands on some choice, premium or select pressure-treated boards, you get straighter grain, fewer knots and a better quality product.
These better boards are usually kiln-dried. Both before and after being pressured treated. That means your deck has a much lower chance of warping. These better boards often come with a limited lifetime warranty as well.
Where Can You Find High Quality Pressure-Treated Decking?
But where can Tim get his hands on these premium pressure-treated decking boards? They are not always available to Joe Homeowner. Well, Tim called the folks at Dallas Deck Craft. The seasoned deck builder there was impressed with Tim's knowledge about the difference between pressure-treated materials.
After a friendly and professional quote, Tim found that he was going to spend more money on building his dream deck than his next-door neighbor Bob. However, the deck professional from Dallas Deck Craft explained that over time he would actually be spending less money.
Not to mention, he would not be breaking his back every couple of years staining his deck and replacing warped, shrunken and twisted boards. By doing a little more homework than Bob, and spending a little more money, Tim now has a hassle-free, low-to-no maintenance outdoor living experience that will look great and provide his family with wonderful memories for years.
The Right Kind of Pressure-Treated Decking Makes All the Difference in the World
Let's fast forward 5 years.
Tim and his wife are relaxing on their still beautiful backyard deck. A soft summer breeze carries the scent of hamburgers and steaks from Tim's grill, and the sounds of his grandchildren laughing and splashing around in his pool brings a lot of joy to his heart. He has not had to raise a finger to maintain his gorgeous deck in anyway, and that makes him smile.
Life is good.
Now let's look across the fence and see how Bob's doing. Not so good. Bob could be enjoying a wonderful Dallas summer day, just like Tim and his family are. But since he tried to save a little money by building his deck himself, and choosing pressure-treated decking material from the nearby home improvement store, he is working on his "sure doesn't look anywhere as nice as Tim's" deck, again.
Sweating and cursing profusely, pulling painful splinters from his hands and whacking his thumb as often as a nail, he sure didn't sign up for this when he built his deck 5 years ago. Yeah, he saved some money up front. And he made sure that Tim knew it too.
But after today's trip to the same old home improvement store where he bought his inferior pressure-treated decking materials, he figures he has spent about the same amount of money as his smarter neighbor. Not to mention sweat equity with the unhappy bonus of more than a few backaches and battle scars came with it.
And Tim is over there enjoying his deck, not working on it. Lesson learned.
Don't be a Bob. Be a Tim, creating wonderful memories on your professionally built outdoor living experience. You have invested a lot of time and money into your home. Does it really make sense to pinch pennies and use inferior pressure-treated decking? Of course it doesn't.
Take Smart Action Today
Give us a call today at 214-384-4267, and we here at DallasDeckCraft.com will come out and provide a deck quote. Yyou can pick our brains, and we will provide 35 years of deck building experience in Collin, Rockwall and Dallas without charging you a penny. You may just find that spending more for some select, premium pressure-treated decking makes a lot of sense. You will also end up loving your deck, rather than resenting it and working on it.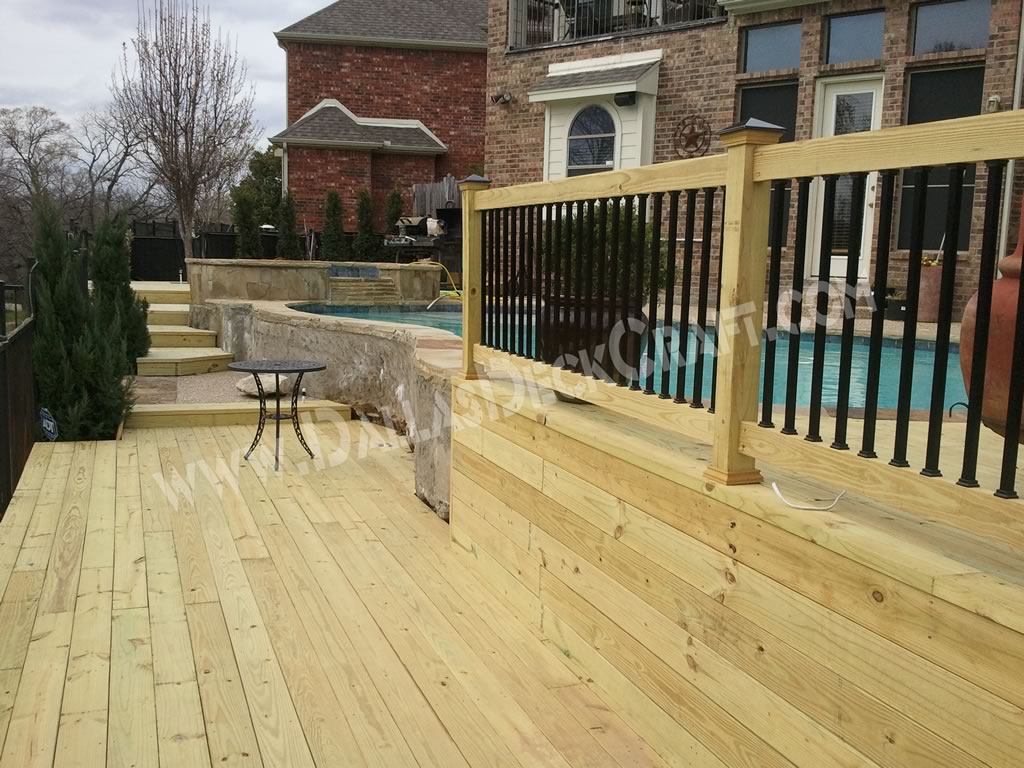 Pressure-Treated Wood Decking is Right in a Lot of Situations
If you're still considering what kind of material to build your outdoor deck with, chances are you've encountered pressure treated wood, or also called Wolmanized pine as a potential option.
As one of the most commonly used materials in outdoor construction projects, pressure-treated wood has an excellent track record as a long lasting, affordable material, making it a deck builder favorite. Pressure-treated pine is commonly used for outdoor decking.
But what is it? What does "pressure treated" mean? Is it right for you? Let's explore this common building material and find out.
What is Pressure-Treated Wood?
Pressure-treated wood is any kind of wood which has been saturated in a mixture of chemical preservatives. The wood is placed inside a closed tank along with the preservatives, and then the air is sucked out creating a vacuum which forces the preservatives into the wood.
These preservatives are specially designed to protect the wood from pests (such as termites), rot, and wood fungi.
It is important to note that pressure-treated wood still needs to be treated with a weather sealant, as the chemical preservatives generally won't fare well against weather and aging.
Addressing Safety Concerns of Pressure-Treated Wood
Most of the concerns regarding the safety of the chemical preservatives used to create pressure-treated wood stem from old manufacturing processes which are no longer used.
For many years, chromated copper arsenate (CCA) was the de-facto preservative used in pressure-treated wood—which caught the attention of the Environmental Protection Agency in the early 2000s.
Even though there was some degree of controversy as to how dangerous the use of CCA was if the wood was properly maintained, it has since been banned in residential use, prompting the lumber industry to use safer and more environmentally-friendly preservatives in the creation of pressure-treated wood.
It's important to remember that if you hear that pressure-treated wood is somehow unsafe, the source is likely using poor or outdated information, as pressure-treated wood using CCA as the preservative hasn't been sold for residential purposes for at least a decade; it is, however, still used in a variety of industrial applications, which homeowners should be aware of when purchasing pressure-treated wood for their residential projects.
Deck Construction with Pressure-Treated Wood
Pressure-treated wood has been a long-time favorite for deck construction because of its affordable pricing, durability, and how long the wood will last when properly sealed and maintained. When compared to other common woods used in deck construction, pressure treated wood remains a common choice because of its pricing without sacrificing functionality—compared to, say, redwood, pressure-treated wood can cost 30 to 40% less while still retaining all of the benefits of redwood and/or other woods which are well known to be durable.
This comparatively low price bracket means that pressure-treated wood might be a great choice if your deck project is a particularly large one; the savings will add up with every square foot.
Pros and Cons of Pressure-Treated Wood
Pressure-treated wood is one of the most commonly used materials used in outdoor construction—and there's plenty of good reasons for that. The longevity as well as the durability make it the perfect framing material regardless of what type of material you choose for your outdoor decking needs. While the pros certainly outweigh the cons in most situations, here's a brief overview of both.
Pros of Pressure-Treated Wood
Long lasting, many manufacturers offer a 30 or more year warranty
Very affordable
Difficult to dent or scratch, strong
Prevents mold, fungi
Prevents insects from taking up residence
Cons of Pressure-Treated Wood
Can only be used outdoors
When burned, chemicals can be unsafe; poses a potential health hazard in the event of a house fire