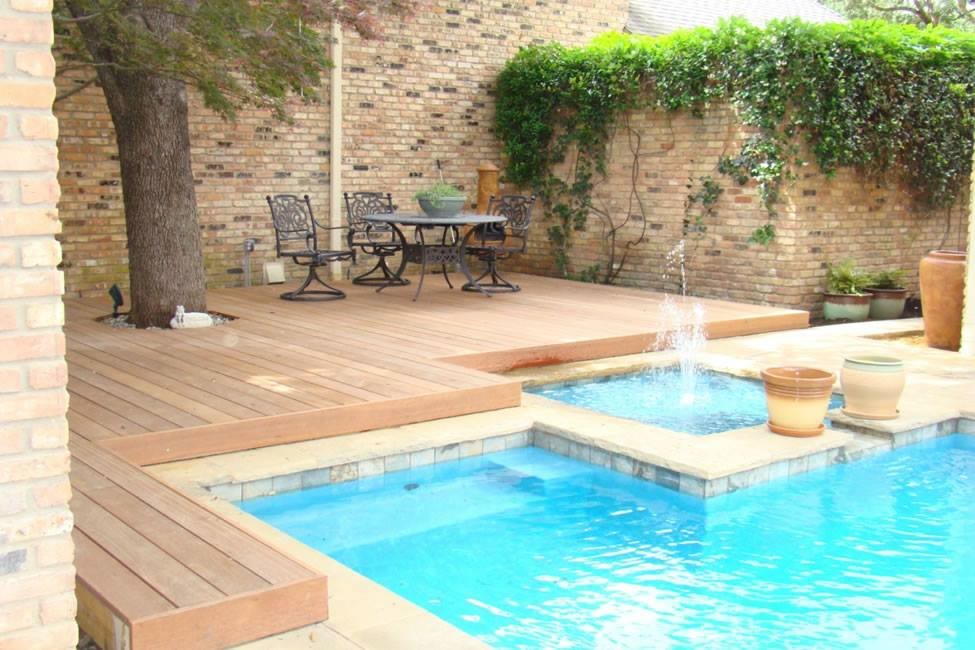 The Benefits of Abaco Decking
Abaco decking is rich, beautiful and tough, a tropical hardwood material very popular among professional decking contractors and homeowners. It has been compared to other hardwood superstars like ipe because of its characteristics. It is both dense and very strong, with a natural resistance to rot, abrasion and dent. It has a warm red-brown tone, and a very smooth feel to it. It is ideal for outdoor decking because it can withstand extreme weather conditions.
With all the hype associated with Abaco decking, does it live up to its claims? Should you use it for you next decking project? Let's take a closer look.
Abaco Decking: A Closer Look
Abaco is a hardwood decking material trademarked by Universal Forest Products which is typically marketed with a 25-year warranty. It is very dense at 60 lbs per cubic feet. Its Janka Hardness Rating is 3,190 lbs which is comparable to ipe's 3,680 lbs rating. It is available in a European-style finish wherein one side has a smooth surface while the other has milling or ribbing which provides elegance, extra slip resistance and texture.
Abaco decking is also available in traditional and grooved boards. The grooved option has slotted slides that make installation easier using hidden fasteners. These fasteners allow proper spacing, natural contraction and expansion. Abaco is also competitively priced when compared to ipe decking and garapa decking.
Benefits of Using Abaco Decking
As a tropical hardwood, Abaco has the desired hardness and density  that makes it ideal for outdoor decks in areas where extreme weather conditions are experienced, such as in Rockwall, Texas. Some of the advantages of using this kind of decking material are the following:
It is kiln-dried so Abaco offers more stability than its air-dried counterparts
Supply is reliable from pre-approved mills
It has a reversible surface. One side has a smooth finish, while the other has an elegant, European-style moulding
The ribbing or moulding makes the deck cooler in hot weather
Very durable, hard and strong
Rot and termite resistant
Environmentally friendly
Tight-grained and fine-textured
The ribbing on the other side relieves stress from the board and helps reduce cupping and twisting
Without a stain or finishing, the material will weather out to a beautiful silver patina
Grooved for installation of hidden fasteners
Can come with matching railing kits
Has a Class A fire-rating, same as metal, which means it is highly fire-resistant
FSC certified
Has a 25-year manufacturer warranty
How to Work with Abaco Decking
Although it can be difficult and challenging to work with a decking material like Abaco because of its hardness and density, a professional deck builder who has years of experience should be able to help you with your deck installation.
It is extremely dense, so special drill bits are required for pre-drilling. High-quality carbide saw blades are also necessary for cutting. Compared to cedar deck installations, Abaco decking installations can take up to three times longer.
It is impossible to hand nail or even use pneumatic nail guns into Abaco, which is why stainless steel fasteners are used. Your choice of fasteners is also important, because you would need your fasteners to last as long as the decking material. The correct type of hidden clips should be used, and it is not recommended to use under-mount bracket systems. Hidden clips also allow for faster installation, and the surface will look cleaner compared to when the product is screwed down.
To get the best out of your Abaco decking, choose to have the fasteners plugged. This process involves countersinking the fasteners deeply from the wood surface and then gluing a plug of the same size into the hole to conceal the fastener. This can be labor-intensive and time consuming, and can only be done by a highly experienced deck builder, but it will be worth it because the finish will turn out to be very beautiful and fluid.
Your home deserves the best, and choosing Abaco decking will not only enhance its beauty, but its value as well. It is strong, beautiful and long-lasting, which is no wonder why builders and discerning homeowners alike put Abaco on top of their list.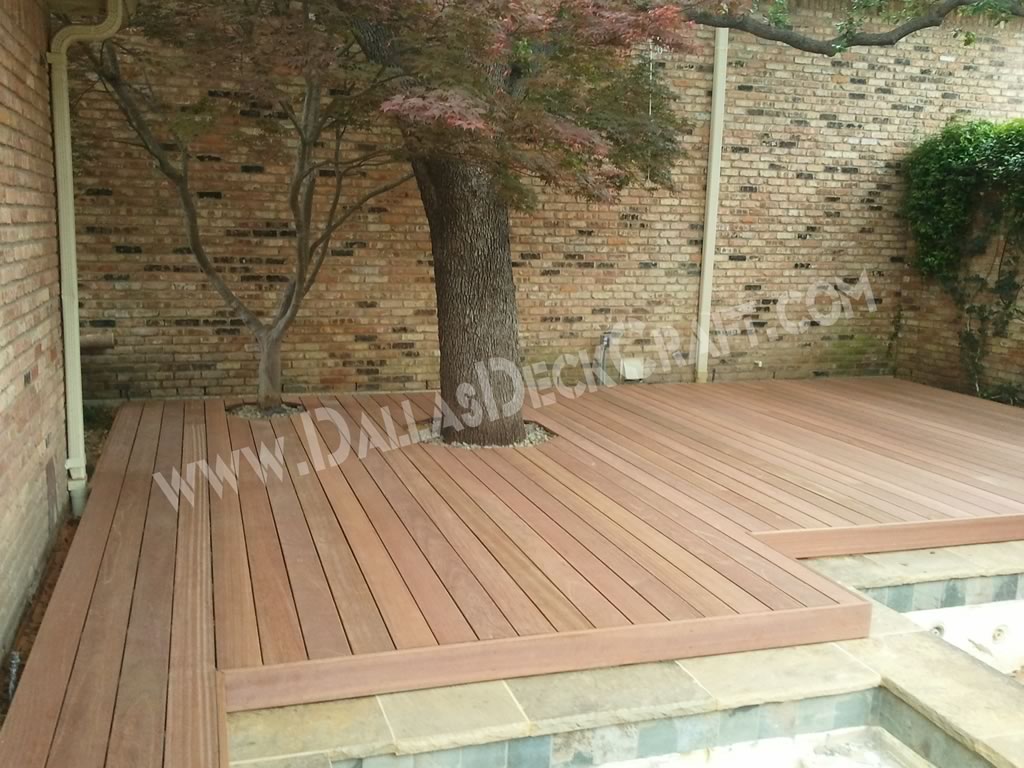 Getting to Know Abaco Decking: The Elegant Tropical Hardwood
Abaco Decking – Durable, Beautiful, Long-Lasting and Low Maintenance
Abaco decking is an elegant step up in appearance and durability from pressure treated wood and other decking materials. This contemporary European design includes a natural composition which dissipates heat quickly. This means that your deck is cooler on your feet.
Abaco decking is also slip resistant, and can be connected one board to the next in such a way that your fasteners are hidden. This provides a nice high quality look, while also allowing a design which provides natural contraction and expansion without wear and tear.
Abaco Decking Delivers Multiple Benefits with a Competitive Price Tag
Comparatively, the tropical abaco product is competitively priced. Other hardwoods like ipe require a larger investment than abaco. And that same rich, deep mahogany color that ipe delivers is almost perfectly replicated with abaco.
Price and appearance aside, no matter what you spend you expect a long-lasting, low-to-no-maintenance deck. You also do not want to be replacing and repairing your deck every few years because it has rotted, decayed or been eaten alive from the inside out by bugs and insects.
That is exactly what you get with abaco decking. This hardwood has an amazing natural ability to resist rot. It is impervious to termites and other insects. Decay, twisting, splintering and cracking simply do not occur.
As far as strength and durability goes, abaco is incredibly resilient. Simply put, abaco decking makes for a wonderful, sturdy, safe and beautiful outdoor living experience that lasts for years.
Abaco Decking is Friendly to the Environment
The last few decades, homeowners around the world have become more environmentally conscious. If taking care of the planet is important to you, abaco decking meshes perfectly with your belief system. Since this is an all-natural wood, it never needs to be chemically treated.
That means while you are enjoying your family and friends, creating wonderful lifetime memories on your beautiful abaco deck, you are acting in an environmentally responsible manner as well.
Abaco Decking Delivers an Excellent Fire Rating
And abaco tropical hardwoods are dried in a kiln for exterior use. This special process, combined with the natural qualities of this beautiful, long-lasting hardwood, leaves abaco decking with a better fire rating than cedar and redwood. Virtually maintenance free when compared to pressure treated decking, abaco offers many benefits to you, the homeowner dreaming of creating the perfect outdoor living experience.
DallasDeckCraft.com has been helping satisfied home owners create timeless memories for 35 years. If you live in the Dallas, Texas Metropolitan area, or Collin or Rockwall counties, give us a call today. We can answer any questions you may have about abaco decking, and provide you with an attractive, quote at your convenience. We would love to add you to the long list of happy clients we have created unique, one-of-a-kind outdoor living experiences for, so give us a call today at 214-384-4267 and we can get started on your abaco decking project as soon as possible.