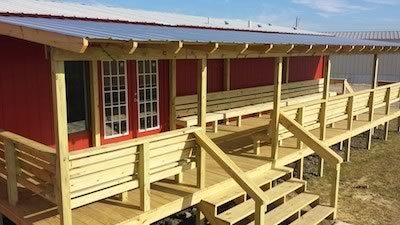 Deck accessories make a lot of sense for a number of reasons. You built your outdoor deck so you can enjoy the Dallas weather. Although there are plenty of hot and humid summer days in the area, there are also a fair share of days and nights where the weather is just perfect for a get-together in your backyard.
Maybe you're thinking about building a deck that attaches to the front of your home. Wherever it is located, and whether it's attached to your home or not, a deck can provide multiple entertainment opportunities and give you lots of great memories.
Unfortunately, a lot of homeowners build their decks without thinking about all of the possibilities. They have always wanted a standard deck and they decide to build one.
This is a shame, because simply adding some porch railing, stairs, drink rails or a gazebo can turn a simple, "good enough" deck into a versatile, "great" outdoor entertainment center. Here are a few accessories you definitely want to consider if you're going to have a deck built. They can be a part of your initial construction, or you can add them months or even years after your deck was built. They add character and entertainment opportunities that a simple deck can't deliver.
Deck Accessories: Deck and Patio Covers
Imagine this scenario. You have always wanted an outdoor deck. You contact a local deck contractor that has great reviews and lots of happy customers. The two of you sit down and plan a traditional, flat deck in your backyard.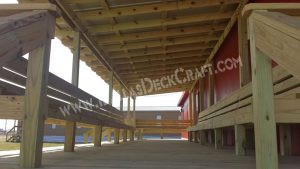 You are given an estimate and a timeline, everything works out perfectly, and you are now the owner of a brand-new, backyard deck. After your first Dallas summer, you realize something. As much as you love your beautiful deck, you didn't take into account that it doesn't have any tree cover or other protection against the blazing, Dallas sun. You don't want to put a solid roof over your deck, so what can you do?
The answer is simple.
Call your deck builder and ask about a deck cover. These are wooden grids or parallel beams that allow in some sunshine, but not all of it. They give your deck a dappled look and provide some escape from much of the direct sunlight your deck is getting.
They are supported by multiple beams but not solid walls. This means you don't block out that nice of wind that rolls over your deck every evening. It also makes for easy access and keeps the cost of construction down. Additionally, some Dallas homeowners let bougainvillea, wisteria or trumpet vine flowering vines creep up and over their deck covers for a wonderful addition of natural, visual and aromatic beauty.
You can do this with a simple concrete pad too.
Some homes in the Dallas area have a slab of concrete accessible from the back door to the home. Instead of the expensive addition of a full roof that attaches to your home, why not have a patio cover built? These open-air, wooden beam covers can be accentuated with lights, fans, heaters and even televisions so you can watch the Dallas Texas win their first World Series title.
Deck and patio covers are smart and cost-efficient ways to turn a traditional concrete pad or standard deck into something special, while still allowing for airflow and some exposure to the sunlight.
Add Lattice and a Trellis
We mentioned that you can use vertical deck posts and a deck cover as a support for climbing vines and flowers. Why not do the same with a trellis? You can build trellises over your deck or use them to line and cover garden paths. They support fruit trees or any type of climbing plants. As far as cost goes, simple trellises are very budget-friendly. They don't take long to install, either.
That means a minimal installation cost for adding deck accessories.
A trellis is latticework which is used to support plants or climbing vines. There are plenty of opportunities for lattice to add some character to your deck, even if you don't plan on allowing mother nature to crawl all over it.
Latticework can be used as a cost-efficient deck or patio cover. Have your deck builder run a few stout beams to support the lattice. The latticework is then easily stapled to form the deck cover we just talked about. Whether used as a trellis to show off your gardening skills or simply to add some visual character to your deck, latticework does the job without busting your budget.
Pergolas and Gazebos
The origin of the word pergola can be traced back to ancient times. Pergola means "projecting roof" in Latin. In the mid-17th century that word became spelled as today's "pergola" in Italy. This Old House calls a pergola the "perfect complement to any garden or deck."
So, what exactly is a pergola? It can be vertical posts that support cross beams, much like the patio cover we talked about earlier. In many cases it is an archway built with a wooden framework. Once again, this is often used as a way to add climbing vines and flowers to your outdoor experience.
Pergolas come in all shapes and sizes. You can have them attached to your deck or they can be standalone features. A pergola creates a shaded walkway or sitting area. Whereas pergolas are usually used for walkways and sometimes attached to a deck, gazebos are standalone features.
The typical gazebo is shaped as a hexagon (6 sides) or octagon (8 sides). Gazebos have solid roofs, latticework or deck railings, and some have built-in seating areas. You can add mosquito netting or screening for a sense of privacy and protection from hungry Dallas mosquitoes and other insects. Large gazebos are at home in public parks and a smaller version can really accentuate your deck.
Gazebos are sometimes round or often shaped as hexagons or octagons, while pergolas are usually rectangular or square in shape.
Deck Benches and Seating
One of the reasons you are building your deck is to relax after the end of a long day. That means you had better have some seating. Deck benches provide comfortable seating areas and can be handled a lot of different ways.
Many homeowners will have their deck builders attach benches to the decks themselves. You can alternately have portable benches built. Consider hinging the top of your deck bench and using the interior space for storage.
You can use the natural wood as a seating surface or pick up some outdoor cushions from your local big box store. You might want to build deck bench seating with an enclosed wooden bottom for a more finished look. You can also have your builder construct them with an open bottom so your ankles aren't kicking the bench supports. However you decide you want your benches built, a quality deck builder can deliver on that vision.
Planters
We keep talking about adding mother nature to your deck. One of the reasons you built your deck is to get outside. You want to spend more time in the great outdoors. One way to add more nature to your deck is to have your builder add flower planters. You can build square or rectangle planters that are placed at different areas on your deck.
These can also be standalone accessories which are not built into your deck. One popular approach to deck planters is to make them in long vertical stretches that run the length of your deck.
Not everyone has a deck cover, trellis or pergola to accentuate their deck. This means they have to come up with another way to add their favorite plants and flowers to their deck experience. That is exactly what planters do. Your builder can fashion them out of the same wood or composite material your deck is made of. This ensures they complement your deck instead of sticking out like a sore thumb.
Steps and Stairs
Stairs might not be an immediate deck accessory you think of. You are probably thinking that you either will or won't need stairs. We mention this accessory as a way to get you thinking about your deck construction.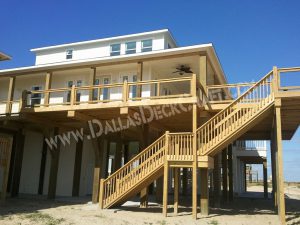 Instead of just opting for a flat deck that's built on a concrete pad or low to the ground, why not make a multi-level or raised deck? Obviously, decks with multiple levels need stairs.
The most sturdy, long-lasting and safe stairs or deck steps are always going to be those attached to your deck and built by your deck builder. He installs them during initial construction. They are made specifically to accentuate your deck and be a physical part of the creation. Before you decide on a single-level, standard deck, talk to your builder about the possibility of multi-level or a raised deck.
You may find that adding some simple stairs or a wide and detailed stair system will add a lot of "curb appeal" to your outdoor experience.
Deck Railing
When you think of deck rails you probably think of square, vertical posts topped off with a horizontal arm rail. That is the traditional deck railing system you'll find in Dallas. It adds safety and some visual character to your deck, and is an absolute must-have on a raised deck. In fact, it's one of the most common deck accessories.
If you're thinking that the standard deck rail setup is rather boring and "blah", there's something you need to know. Your deck builder has access to a number of detailed shapes and patterns that can be incorporated into your railing system. The starburst is a popular deck rail feature that looks like the top of the sun emerging on the horizon.
Other types of deck rail designs include balusters or spindles with detailed carvings. You also have a choice when selecting a handrail. Most people opt for at least a 4 or 6 inch wide top handrail. This makes a perfect place for you to rest your arms and a refreshing beverage.
Deck Accessories: Drink Rails
Speaking of refreshing beverages, why not add some drink rails to your deck? You can easily become the envy of your fellow deck owners by adding this top-notch feature. Your deck builder can cut circular holes in your deck handrails and attach plastic beverage holders. This keeps your drink from spilling if you accidentally nudge it, unlike a typical flat handrail.
You may alternately have your builder create a custom drink holding system that runs around the table-top of your deck.
Eating, Drinking, Table-Top Feature
A lot of cookouts begin on decks. You have that wonderful grill and you love showing off your backyard barbecue skills. If this is the plan for you, make sure your builder creates table-top eating surfaces. Then all you have to do is pull up some bar seating and you have a place for you and your friends to enjoy some cold drinks or to eat the amazing food you crank out on your grill.
Deck Accessories: A Quick Wrap-Up
Having somewhere to sit and enjoy a great meal turns your deck into a secondary eating area. Installing drink rails shows your family and friends you are a top-notch outdoor entertainer. Planters, pergolas and trellises let you add mother nature's beauty and aromatic fragrance to your decking experience.
Move away from your deck and you can use trellises and pergola on your walkways and garden paths. They can lead to a beautiful gazebo or the garden that you're so proud of. Stairs and railings add safety and functionality to your deck, and are an absolute necessity if you have a multi-level or raised deck. Finally, consider a deck cover as a complement to a flat deck. It allows just the right mixture of sunlight, shadows, and air to accentuate your outdoor experience.
If you'd like to know more about deck accessories, reach out to us.