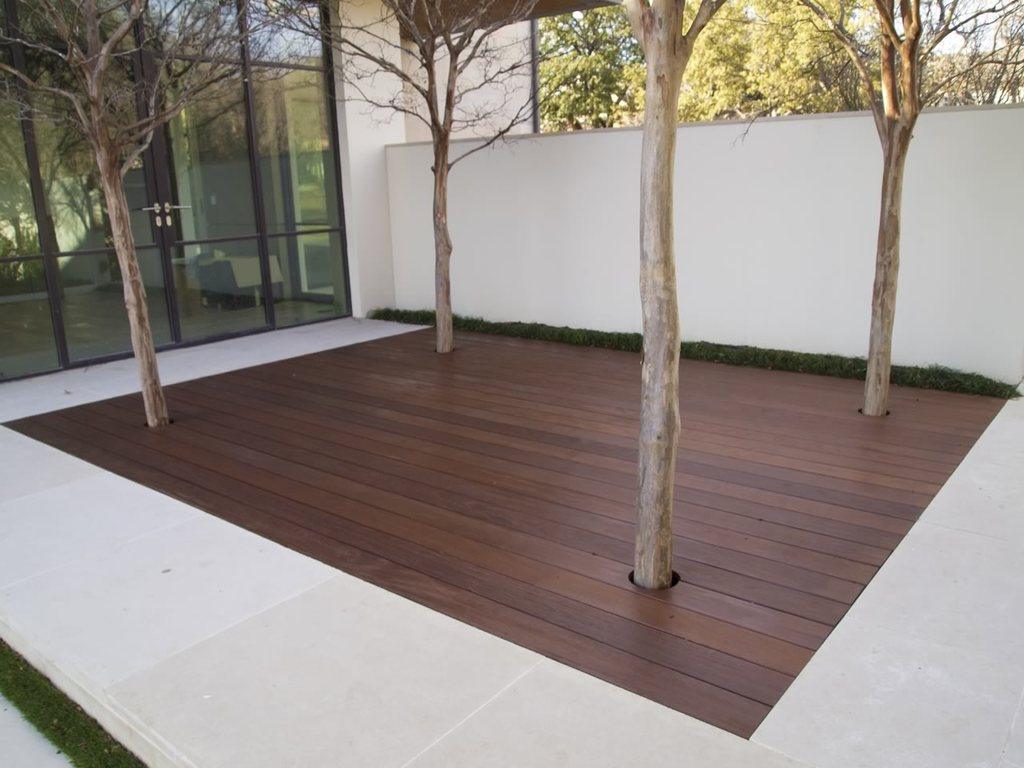 So you are thinking about building a deck in Dallas, Texas but you're not sure what decking materials you should use? The Dallas-Fort Worth metroplex is the 4th largest metro area in the US. More than 7 million people call the 13 counties of this metro region home because the weather is beautiful all year-round. Enjoying that weather without leaving home is possible with a pool deck, patio deck or balcony deck. You can entertain, create a place to escape or use your deck to show off your backyard barbecue skills.
No matter what type of deck you build, you need to choose the right materials. This means understanding what decking materials work best for your environment. A veteran deck builder with decades of experience crafting quality decks in the Dallas area knows the pros and cons for the popular woods and composites used to build decks that last, and that help you create memorable experiences.
This report helps you compare decking products. You will learn which are more expensive to build and those types of decking materials which require minimal maintenance. We will cover popular wood and composite decking manufacturers, and all other aspects you need to know to make an informed decision as to which decking material you should be using. If you know you want to have a deck built but don't know what materials you should use for your particular situation, this guide will help you answer all your questions.
Listed below in no particular order are the most commonly used types of wood and composite decking materials in the Dallas metropolitan area. They provide varying degrees of functionality and durability, cover a wide range of price points, and can be used for many types of decks.
Common Natural Woods for Decking
Far and away the most common type of wood used to build a deck is Southern Yellow Pine or SYP. This wood is pressure treated (then called Pressure Treated Pine or PTP for short) to extend its natural resistance against rotting, decaying and insect infestation. Pressure treated pine, cedar and redwood are the most common natural woods used to build a deck in Dallas. Let's take a look at each in turn, comparing and contrasting them according to features, durability and price points.
Pressure treated pine is the most economical and found to be used in most decks in the United States for one simple reason–it is the least expensive decking material. Bear in mind that this only means initial construction and labor cost. It is easy to work with, has a plentiful supply, and can give you a good looking deck for 15 or 25 years (or longer) if properly maintained.
Pressure treated pine delivers the beauty of natural wood, but pressure treated pine decks will need the application of a good weather sealant and it will have to be periodically reapplied. Talk to a well seasoned deck builder as to what products will give you the best protection as well as when to apply them to your newly installed deck.
People build decks for different reasons. If you are on a budget and looking for a pool deck or want to build a surround for your hot tub, pressure treated lumber is recommended. When you keep a routine maintenance schedule it can give you years of enjoyment.
Remember that the upfront cost for pressure treated decking materials is very attractive, but ongoing maintenance, time and financial considerations are going to be a little greater than with other types of woods and composites like Trex decking and ipe (pronounced ee-pay) wood.
Cedar is considered a soft wood, but it nonetheless makes for beautiful, long-lasting decks. Cedar decking materials offer a distinctive color and hue, and there is no mistaking the luxurious smell of a cedar deck. You may fall in the love with cedar decking products because of the rich red coloring. If you're looking for a beautiful deck, cedar can definitely deliver.
Cedar should be re-sealed every few years, and when proper maintenance practices are observed, you can still have a really attractive deck after 20 to 30 years. As opposed to other decking materials, cedar carries a middle-of-the-road price tag.
While Redwood has a natural resistance to rot, decay and boring insects it will still need maintenance. It will also give you a natural and beautiful deck. It works well in the Dallas metropolitan area and can be the centerpiece for great backyard entertaining experiences. Like cedar, redwood costs less than hardwoods and composites, man-made decking materials, and it can be less prone to warping over time than pressure treated wood. Like most natural woods it is best used when installed so that it has ample space between the deck and the ground. This allows for air to flow keeping the deck dry underneath and adds to the longevity.
You should also weather seal a redwood deck every few years to get the best possible performance. Since redwood is a softwood like cedar, it will be easier to scratch or stain than a hardwood or composite. Additionally, if older/inner tree growth is used to make your redwood decking materials, life expectancy is around 20 to 30 years (or longer) with regular maintenance.
To recap, pressure treated pine is always going to be your least expensive deck building choice at least upfront. Cedar and redwood will cost more to build than a PTP deck, while offering a more distinctive appearance and lasting a little longer. With any of these wood decking materials you are going to have to contribute regular time, money and elbow grease to keep them looking good and lasting as long as possible.
Composite Decking Material
Composite decking materials came about for a number of reasons. Sustainability is a real concern any time you build something using wood. A tree has to be grown and harvested to create wood decking materials. Composite decking products combine wood fibers, sawdust waste and recycling plastics. Because of this reason, they are environmentally friendly and the best composite decking materials last a long time with minimal maintenance.
However, the process for making composites is costly. This means that while your composite deck can often return several years of beauty and high quality performance with little maintenance, it is going to require a bit higher financial commitment in the construction phase. This is offset by lower annual maintenance costs and less time investment on your part year after year.
Build a composite deck and you get a uniform appearance from board to board. If you want a consistent look and a long-lasting deck, consider composites.
The manufacturer warranties you receive will in almost all cases be much more attractive than with pressure treated wood and other natural softwood products, and you won't have to worry about splintering, cracking, splitting, deterioration or insects and other bugs eating your deck.
Composite decks can offer a high-end look, and this segment of the decking industry is one of the fastest growing currently. Trex is the market leader in composite decking, and Fiberon and Azek are other quality manufacturers.
The composite marketplace is evolving constantly, and Trex has become the industry leader because the company offers extreme durability with an environmentally friendly product that requires little maintenance while holding its appearance and functionality for decades. Trex offers an impressive 25 year warranty against fading and staining on residential decking products. This warranty also includes replacement due to defects in workmanship, and a guarantee that your boards will not splinter, rot or split. Additionally, you get a guarantee that Trex products are insect resistant and no structural damage will occur due to decay from fungal infection.
Build a Trex deck and you're working with material that is made from 95% recycled materials. The Trex lineup receives the blessing of the US Forest Stewardship Council, and FSC approval means no decking material came from an endangered rain forest. The Trex lineup includes Select, Enhance and Transcends lineups, with the Transcends product being the top-of-the-line offering.
Azek Building Products makes decking materials which are backed by 30 year limited and limited lifetime warranties, depending on the product. The TimberTech line is also a part of the Azek family. Fiberon decking products also work well in the Dallas Fort Worth metro area, and are backed with a limited residential warranty that promises protection against splitting and decaying, rotting or splintering, and termite infestation. Fiberon also backs their products with a limited stain and fade warranty.
Bamboo: The Hot New Thing for Decks
When most people think of bamboo, they picture the slender bamboo stalks which grow to a height of 6 to 8 feet. Some bamboo can actually grow to a height of 80 feet and a width of 1 foot. Unlike decking materials made from wood, where the entire tree must be cut down, bamboo can be harvested without cutting the tree. Moso Bamboo is a decking material now available in the Dallas Metroplex, offering a 25 year limited warranty against rot, decay and insect infestation.
If you want a deck with a slightly different coloration than you get from natural softwoods and hardwoods, you may want to consider Moso Bamboo products. This is a green alternative to exotic hardwood decking material, but expect to pay more than other decking materials other than most tropical hardwoods.
Tropical Hardwoods: Beautiful, Exotic, and Luxurious
Exotic, tropical hardwoods include ipe, tigerwood, cumaru, Abaco, massaranduba and garapa. These extremely durable hardwoods are longer-lasting but also require a little maintenance. They can keep their color for decades with proper maintenance, and you can expect up to 50 years of beautiful high performance from an ipe deck when it is cared for properly.
Ipe (also known by other names such as ironwood), cumaru and the other tropical hardwoods are incredibly dense. They are among the hardest woods used for building decking products, naturally resistant to rot and decay, insect infestation and boring as well as wearing well against the elements. All tropical hardwoods offer a very attractive longevity feature but will need maintenance. Tropical hardwood decks are like a fine exotic automobile and if they are within your budget this means they do require a financial investment where annual maintenance is concerned.
These woods are gorgeous, long-lasting, naturally resistant to mother nature and weather, and definitely at the high-end of the initial cost range when compared with other decking materials. However, when you want to build a deck that says elegance and quality, look no further than a hardwood like the gorgeous ipe.
Ipe carries the highest possible fire rating and is one of the hardest woods on the planet. Expecting decades from your beautiful ipe deck is not at all out of line, and the decking materials made from this wood have received the blessing of the Americans with Disabilities Act Requirements for safety because they are extremely slip-resistant, even when wet.
Ipe wood naturally resists fungus and mold, rot, decay and boring insects, without the need for the addition of any chemicals. The natural olive brown to reddish finish gives a look of luxury and class, and this wood is so durable it has been used at the Atlantic City Boardwalk, Disney World, the Coney Island Boardwalk and San Diego's Shelter Island Marina.
If you select ipe or another tropical hardwood, you get one of the lowest cost-for-life decking products you can possibly choose. Your initial investment will usually be higher than if you select many other decking materials, but your ongoing upkeep and maintenance costs over time are much lower than those alternative decking products.
You should know that ipe wood offered by a responsible decking contractor is considered a "green" product. It carries the FSC seal of approval mentioned earlier as a wood that is harvested with sustainable and renewable practices. If you don't mind paying more in the construction phase for your deck and a little every year for the next several decades for maintenance, a luxurious tropical hardwood like ipe adds instant status and high-quality class to any home.
Thermally Modified Wood
Natural wood can be modified through the application of a number of processes. One way to do this is to heat wood without the presence of oxygen, thereby making it more durable by changing its cellular structure. This thermal modification makes softer wood more durable and long-lasting, bakes the sugars and starches out of the wood making it insect resistant of which can be seen as an environmentally friendly by-product of this process. Since this wood lasts longer than it naturally does, fewer trees need to be harvested to make decking products.
These processes also make wood more resistant to mold. Thermally modified wood products are 50% to 75% less likely than their natural counterparts to swell or shrink in the presence of dramatically high or low temperatures. Some homeowners like the fact that attractive softwoods receive a darker color thanks to the thermal modification process. As with composite decking materials, there are a wide variety of colors and shades available.
Three of the top thermally modified would manufacturers are Kebony, Thermory and Cambia.
Choosing the Right Deck Material for the Dallas Metro Area
You just can't beat pressure-treated pine if your biggest deck building consideration is your pocketbook. First-time homeowners and those with tight budgets are recommended to consider a pressure-treated deck for a lot of reasons. First off, the initial investment is lower than with any other type of deck build. If you have never had a deck before, this is a sensible and low-cost way to enjoy the experience.
If over time you realize that you are not spending that much time on your deck or you need to move out of your home, you have a minimal upfront investment. The slight downside to pressure-treated decks is maintenance. You should always sweep and otherwise clean any deck. In the case of a PT deck which is going to be subjected to the heat and humidity of the Dallas, Texas area, it is recommended that you stain your deck every few years.
The same is true if you choose to build a cedar or redwood deck. Redwood and cedar are going to set you back a little bit more initially than if you choose pressure-treated wood, and many people find them more attractive than a less expensive PT pine deck.
Consider a composite decking material like Trex if you are environmentally conscious. Since Trex materials are composed of 95% recycled plastics and wood fibers, you're looking out for the environment and the planet because your decking material is made up of what would otherwise end up in a landfill. Trex decking products are backed with a 25-year warranty at least, they are resistant to rot and decay, insect boring and infestation, and you won't begin to see gradual fading for more than 10 or 15 years.
Another benefit of Trex decking is that it doesn't need to be stained, painted, sealed or finished. As you know, you should not expect that your softwood or hardwood decking boards will all have the same grain patterns, coloration and hue. If you are a stickler for uniformity, Trex will provide a better experience than natural wood. Trex decking materials come in a wide variety of colors and textures, and you receive long-lasting durability and low maintenance with an installation cost that is lower than tropical hardwoods but higher than softwoods like pressure-treated pine and cedar.
Thermally modified wood and bamboo make for interesting decking material choices. These are the newest decking innovations, and while they don't have the track history of other alternatives, they seem to offer some attractive features.
Finally, if you want your deck to reflect class and luxury, you should definitely consider a tropical hardwood like ipe. This durable wood is made by mother nature to last for a extremely long time when compared to other decking materials. It will require annual maintenance such as any fine automobile.
Ipe wood carries the same fire rating as steel and concrete, and is easily the lowest cost-for-life decking choice. If you want to take your decking game to the next level and create an outdoor experience that will be the envy of the neighborhood while also reflecting your demand of excellence and class, you can't go wrong with ipe. Also ipe if not weather treated annually will gradually change to a beautiful gray which is acceptable to many.