I was fooling around online, and I came across this desk estimator application for a smartphone. You just download the app, punch in all of the measurements and material requirements, including how much materials cost wherever you live, and it spits out your total cost.
And there are some deck estimator applications and calculators that automatically tell you how much material you will need after answering just a few simple questions. Isn't that cool? As a deck builder of 35 years spent creating outdoor living experiences for my Dallas, Collin and Rockwall county neighbors, I was really impressed.
Is a Deck Estimator Calculator Really a Smart Choice?
But then I got to thinking. And I recounted countless situations in my mind where I noticed things that my wonderful clients did not take into account. In many situations, when I revealed what my deck building experience has taught me over the years, the homeowner was delightfully surprised by the estimate I gave him, and by the final cost of the job.
And I am also pretty sure that no deck estimation software or application will provide a guarantee like a professional deck builder will. Also, what happens if the software just decides to "tweak" your numbers because of some computer glitch? I don't know about you, but I have seen computers and smartphones do some pretty strange things in my life. Basically, how do you know the numbers are right? Only a professional deck builder would know if the results of a nonhuman estimate are anywhere near close to correct.
What a Seasoned Deck Builder Provides, No Deck Estimator Software Can Match – Hands-On Experience

Technology is great, do not get me wrong. And I have even downloaded some automated software for estimating deck costs myself. But I have also been building traditional decks, intricate pergolas, gorgeous gazebos, screened-in porches and above ground pool decks for most of my adult life. Simple jobs and incredibly extravagant works of art. I have literally "seen it all" in the deck building business.
And I can tell you, you can take 2 identical houses with identical backyards and similar owners, and even if they want matching decks, there are going to be several differences that need to be taken into account. The benefits of having a 35 year deck building veteran that lives and works in your area coming out to your house for a hands-on estimate are plentiful, and not to be underestimated (no pun intended).
What a Deck Estimator App or Software Is Really Good For
Webster's dictionary tells us that the word estimate, as a noun, is "an approximate calculation or judgment of the value, number, quantity, or extent of something." Approximate, not precise. And as a verb, estimate means "to roughly calculate or judge the value, number, quantity, or extent of something." Roughly, not exactly.
That is exactly what any type of non human deck estimator is good for – arriving at a rough or approximate number for cost or amount of materials needed. And not all deck estimator applications are free, so take that into account as well.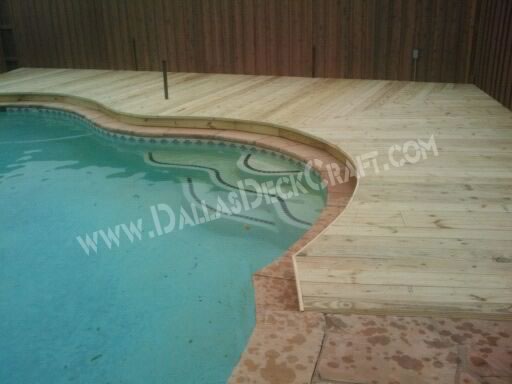 Important Factors to Remember When Checking Out Deck Prices
So, you're comparing deck prices, are you? Good for you, and congratulations. When I finally built my first deck oh so many years ago, I couldn't have imagined all of the incredible memories and experiences it would provide my family, friends and myself. So good on ya' neighbor, you are going to love it.
And if you don't mind, I would like to give you a few tips to keep in mind when you get some deck prices and estimates and are deciding which company to go with. I have been building decks for 35 years in Dallas, Collin and Rockwall counties. And I would be happy to give you the benefit of my many years of outdoor living building experience (these are important tips most deck builders simply won't share).
1 – There are a few smart ways to cut costs.
When you call me and arrange for me to drop by your place and give you a no obligation quote, I am going to ask a lot of questions. When you tell me exactly what you want your deck for, I will sit down with you and reveal a few intelligent ways you can keep your costs down, without the quality and craftsmanship of your deck project suffering. Money isn't everything. So if I can save you a few bucks and have a happy customer that refers me to his friends, we both win.
2 – Building a deck doesn't really take that long.
Some contractors will string out a job forever. This is how they justify higher deck prices, continually bumping up the price for "unforeseen expenses". In most cases, I can complete a deck job in a one to two days. There are lots of factors to take into consideration, of course, but I am a family man myself. So I know you don't want us invading your privacy any longer than is absolutely necessary. I respect that.
3 – Deck prices should reflect your planning ahead.
Don't think of your bare minimum deck project. If you tell me you want a simple 20′ x 20′ square deck, I am going to ask you to think years down the road. It is relatively easy to add on to an existing deck, so you can always call us back in the future and will be happy to help you. But your deck prices are going to be lower when we do all the work one time, as opposed to building your dream deck and outdoor living experience in 2 or 3 installments.
4 – Big corporate deck building companies do not care about you.
You probably know this already, but you are not much more than a statistic to most large companies. Not so with small businesses like myself. I pride myself on the fact that I personally get to know every one of my customers. I live and work in the same area that you do. We have the same family concerns, we shop at the same stores, and might even go to the same church. When I get to know your name, you will never be just a statistic to me. Most of the work I do comes from referrals, because I truly do care about you as a person and a fellow Texan.
5 – Deck prices are not as high as you might think.
I get the same reaction all the time. A resident of Rockwall, Dallas or Collin counties will call me and arrange for a visit to their property. I will meet the homeowner whenever is convenient for them, and provide an in-depth, no obligation quote. And you see the eyebrows go straight up, accompanied by a look of surprise at the affordable figure I deliver. I don't have a fancy warehouse, professional salespeople and a million dollar advertising budget to pay for. So I can consistently provide really reasonable deck prices that keep wonderful clients like you happy.