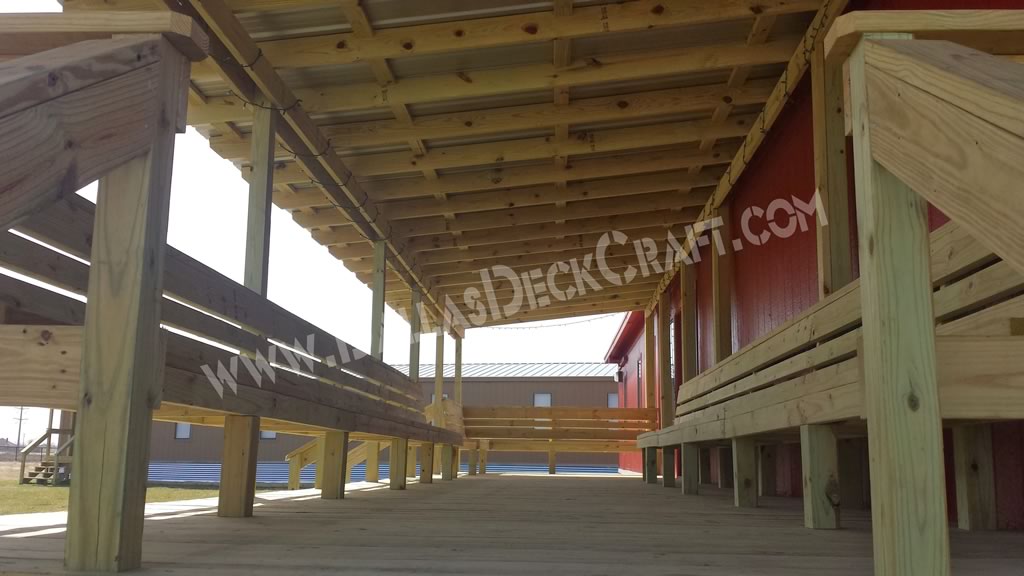 Mobile home decks and porches can return nearly all of their value if you ever decide to sell. That means you benefit from all the wonderful memories you create and enjoy on your deck, and then receive most of your money back when you sell your property. You simply cannot say that about very many home remodeling projects.
Mobile home decks and porches deliver a very high home improvement value for the money you spend
Remodeling magazine revealed their research for the 2013-2014 year in their annual Cost vs Value Report. They showed that a wooden deck addition returned on average 87.4% of the job cost on resale. Out of all of the dozens of possible mid-range home improvement and beautifying projects at your disposal, adding a wooden deck delivered a better dollar for dollar value than any other improvement project other than replacing your entry door. And let's face it, mobile home decks and porches can provide a lot more fun than a brand-new front door!
Mobile home decks and porches add to your living space at low-cost
Manufactured homes can often be cramped for space. That means that mobile home decks and porches immediately extend your living area in Rockwall, Dallas and Collin counties, with a minimal investment. Also, because of the usually smaller square footage of a trailer or mobile home as opposed to a traditional home, building a large wraparound deck is much more affordable.
You create a safer living environment
Do not forget about the safety issues which improve when you build an outdoor deck. Many mobile homes are built with very little time and money spent on providing access. That means that sometimes there are only 2 or 3 flimsy steps leading into the unit.
In many cases, there are not any handrails provided. This can be very dangerous for both entering and leaving your manufactured home. For that reason, mobile home decks and porches provide you with peace of mind, knowing that you, your children and your friends can safely enter and exit your home.
Mobile home decks and porches fill a wide variety of needs
Sometimes when you purchase a manufactured home, your decking needs a little attention. Your existing mobile home decks and porches can be repaired, fine tuned, beefed up, added on to or taken down entirely to make way for a brand-new creation.
And maybe, like many home mobile home owners, you have an above ground pool on your property. Creating an outdoor living experience around it can turn an unsightly, possibly unsafe and seldom used pool into a daily outdoor living experience. Mobile home decks and porches can easily be built to connect your above ground pool to your manufactured home, improving the value of your property while delivering a versatile and enjoyable wealth of relaxing and partying opportunities.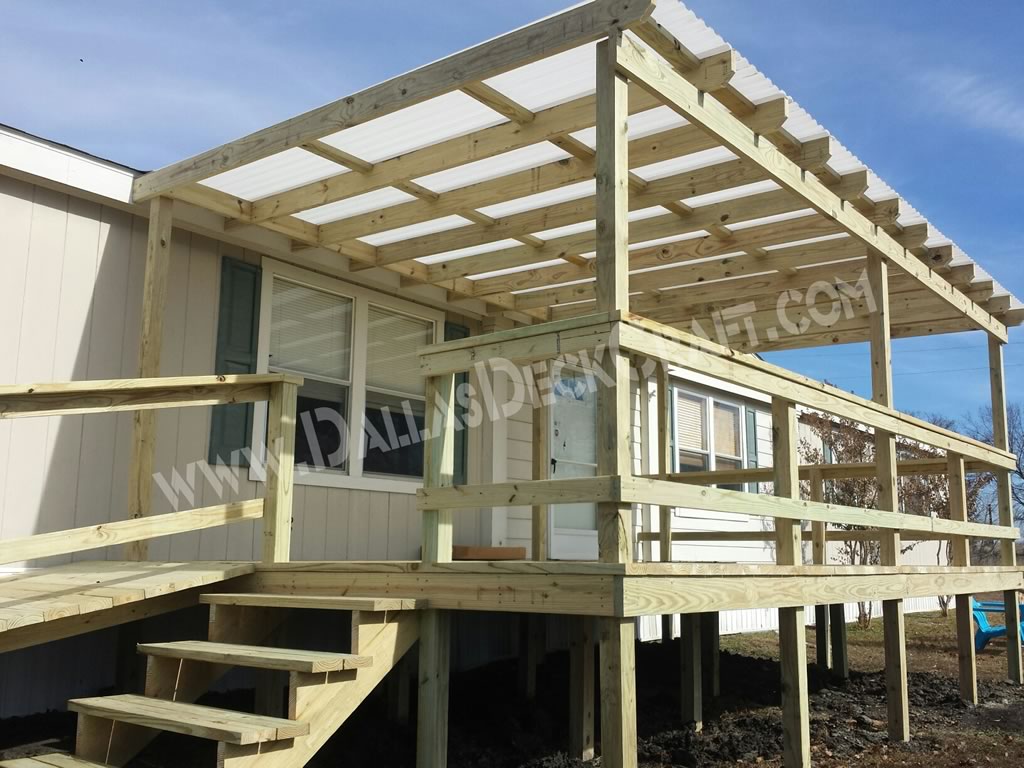 Understanding Your Mobile Home Steps And Decks Options
Mobile home steps and decks can work hand-in-hand to increase the value and safety of your manufactured home. Whether you rent or own the property you are living in, you know that mobile homes do not always have the safest entrances. In many cases, 2 or 3 wobbly steps is all which is provided to get you in and out of your home.
Professionally Made Mobile Home Steps Promote Safety
If you have children or elderly family members and friends, this probably concerns you. But the idea of spending a ton of money on a few steps concerns you as well. Fortunately, when you deal with the right company, a small job like building a set of mobile home steps can be completed quickly and rather inexpensively.
That is why you may consider having a professional build a set of safe and sturdy mobile home steps. And decks which move you in and out of your manufactured home are even safer than a simple series of steps. If you need handicapped access provided, an inclined ramp made of sturdy decking material might be the way to go.
Not to mention the fact that a deck, whether attached to or separate from your living area, can deliver multiple outdoor living and entertaining options. Think about it. When you get a decking contractor quote you on building a set of mobile home steps, what will it hurt to ask how much a deck would cost you? You are under no obligation, and your total investment might be more attractive than you can imagine.
Mobile Home Steps And Decks Offer a World of Options
When building mobile home steps, you have a lot more choice than you may realize. You can simply have a decking contractor use a couple of open or closed deck stringers and some 2″ x 6″ deck boards to create a sturdy and efficient set of steps.
You can also customize those steps by adding railings, providing a boost in safety. This entry/exit can also be covered over to provide a little weather protection. Add some screen and you have the makings of a small mobile home porch.
Financially, the difference between a nice set of steps, cover and railings, and a full-fledged deck, is actually not that far off. And when you marry mobile home steps and decks, you create not only a safe and sturdy area for entering and exiting your manufactured home, but also a larger living space and multiple entertainment options.
Call Today for Your Free Mobile Home Steps And Decks Quote
When you call Dallas Deck Craft today, 3 things happen.
1 – You receive a free, no obligation quote based on our 35 years of experience creating outdoor living habitats.
2 – We meet with you as quickly as possible, at a time which is convenient for you.
3 – We guarantee your satisfaction.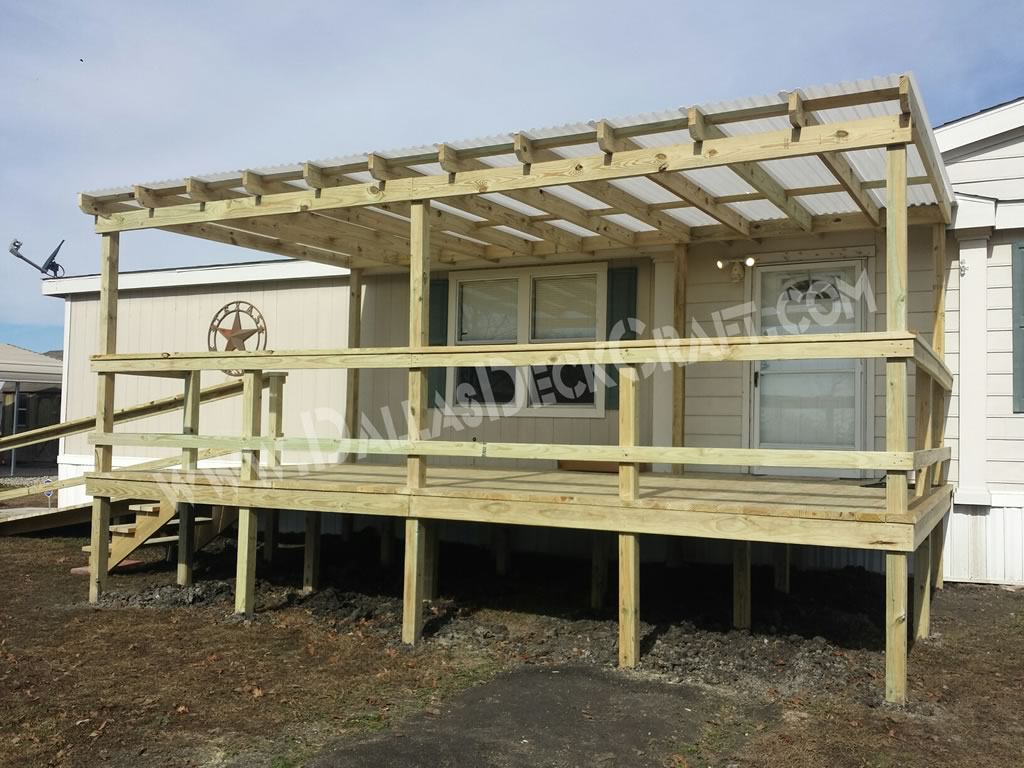 Mobile home porches can be designed in a virtually limitless number of ways. But when you boil it down, there are basically 5 different types of mobile home porches and deck designs. You have the traditional porch, a screened in porch, a simple rectangular deck, a deck or porch that wraps around your manufactured home and an above ground pool deck. Let's take a closer look at the top 5 mobile home porches and deck designs.
The Traditional Porch
Most dictionaries will tell you that a porch is – a covered shelter projecting in front of the entrance of a home or building. That is why, among all of the types of mobile home porches you can build, the standard porch is a solid go-to option. Just by adding a covered porch, small or large, to the entrance of your manufactured home, you immediately improve its value and "livability factor."
Screened In Mobile Home Porch
Mobile home porches are often screened in, especially in the Southern US states. In Texas, high humidity and long, hot summers often bring lots of mosquitoes and other flying, crawling pests. A screened in porch lets you enjoy the outdoor weather, while protecting you from Mother Nature at the same time.
Traditional Rectangular Deck
A "standard deck" is a flat square or rectangle. Common sizes include 12×16 feet and 10×12 feet, but any straightforward rectangular or square shape and size can make up a traditional, no-frills deck. These can include handrails and/or a covering.
Wrapped Deck or Porch
Here is where mobile home porches start to get interesting and versatile. Take a standard porch, screened in porch or deck. Now envision it wrapping around a portion of your manufactured home, possibly surrounding it totally. These are very popular, and when dealing with a mobile home deck wrap, they will or will not include a covering, handrails and other amenities.
The Above Ground Pool Deck
Manufactured homes are attractive as an alternative to a traditional home purchase because of the smaller financial investment. The same is true with an above ground pool versus in-ground. Mobile home porches can extend to a backyard above ground pool, moving from your manufactured home out to and around the pool. This delivers multiple options for outdoor living experiences, more than your pool provides without a deck.
Mobile Home Porches Come in All Shapes and Sizes
They truly are limited only by your imagination. Different decking types can be used, and you can add screen to boost functionality. A professional deck builder can provide you with the answers to all your questions concerning mobile home porches, decks and pool wraps, and your cost just might pleasantly surprise you.
Decks consistently return, dollar for dollar, one of the best home addition values of any home improvement plan. When you call Dallas Deck Craft today, we will schedule a time at your convenience to meet with you and provide a no obligation quote based on our 35 years of experience in the Dallas, Collin and Rockwall County areas. You have nothing to lose and a lifetime of wonderful memories to gain when you call for your free mobile home porch or deck estimate. Ring us up right now so we can provide you with a free quote as soon as possible.