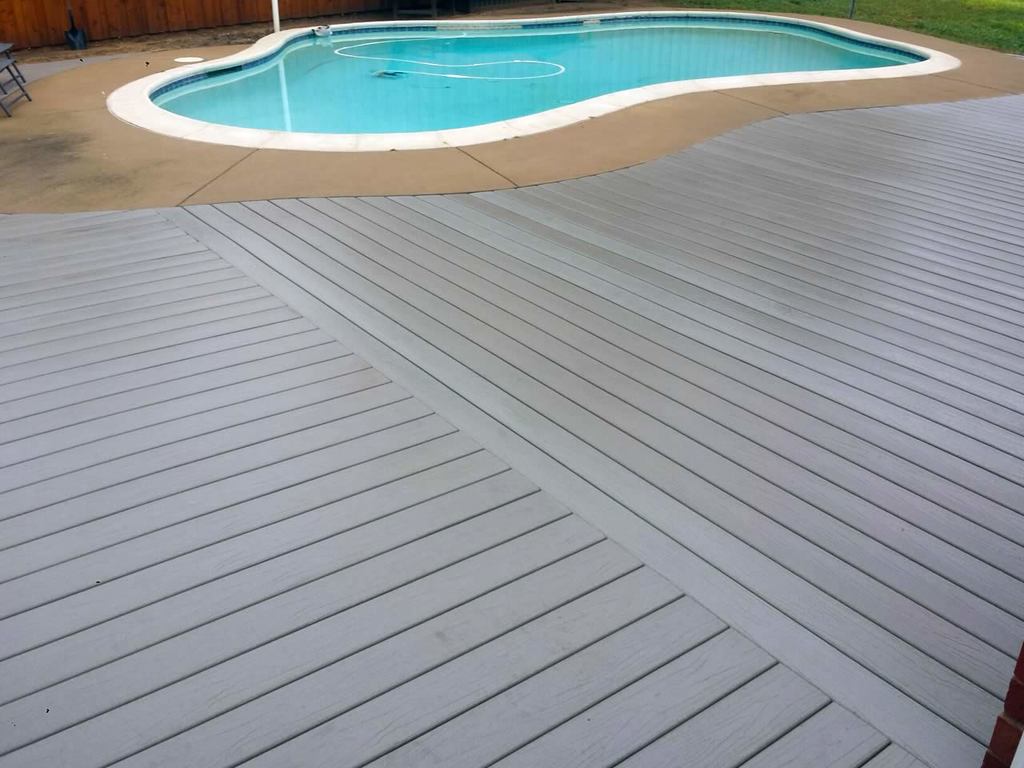 Composite decking materials are made by combining plastic and wood. Where do these ingredients come from? Some environmentally responsible decking material producers use mostly recycled material. This means that while you enjoy a long-lasting, low-maintenance, beautiful and functional outdoor living experience, you also make a minimal impact on the planet.
Of course, it's nice to think about being ecologically friendly, but you want your deck to last long as well. Composite decking materials have you covered there. They come in a wide variety of colors and grain choices, they can actually be less expensive during their lifetime when compared to other options, and they can last more than a couple of decades with very little maintenance.
Let's take a closer look at composite decking materials and why they make sense for the Dallas area.
How Much Time, Money and Cleaning Does a Composite Decking Really Cost?
Some people will choose to build a pressure-treated pine decking rather than use composite materials. They love the fact that the initial, installed cost of a pressure-treated deck can be 1/2 to 1/3 the cost of building a composite deck.
What they may not have been told by their deck builder is that they can very easily spend more overall money than if they had gone with a composite material like Trex decking.
Wood decks need to be sanded and painted or stained. Expect annual maintenance and re-staining or painting every 2 to 3 years. You never have to stain or paint a composite deck, not initially nor ever. Over 10 years of maintaining a wooden deck, you can expect to spend about 30 hours each year on average sanding, staining, painting and conducting other normal maintenance tasks.
That number is just 2 to 4 hours each year with your composite deck.
The difference is intense, back bending, elbow grease-powered maintenance with a wood deck and just washing off your composite deck with a hose and some soapy water. Additionally, deck maintenance on a standard sized wooden deck could cost more than $5,000 over 10 years. That includes cleaning, staining or painting, and replacing parts. The same-sized composite deck could cost you as little as $500 in maintenance over that same 10-year period of time.
This is why you can expect to pay less for a composite deck over the lifetime of the product than you will for a wooden deck that requires a lot of maintenance.
How Much of Composite Decking Is Recycled Material?
The Trex company makes beautiful decking products which are 95% recycled plastic and wood. This includes old plastic shopping bags, plastic milk and water bottles, old wooden pallets, sawdust and discarded wood fiber.
Each year, Trex manufacturing methods keep over 500 million pounds of wood and plastic from ending up in landfills around the United States. This also keeps those materials from leaching into the water table and eventually ending up in our lakes, rivers and streams.
Fiberon is another popular composite decking material provider. Their products are nearly 94% recycled content. The top composite deck manufacturers ensure that you are making an environmentally conscious statement when you use their products.
How Long Do Composite Decks Last?
Trex was one of the first companies to introduce composite decking materials. The company stands behind its products, offering a fade or stain warranty for 25 years. That having been said, you can get 30 or even 40 years of consistent use and no-fade performance with a composite deck.
Forget about Splinters, Rotting and Other Wooden Deck Problems
Even the hardiest, most durable wood will eventually rot given enough time. That is not the case with composite decking materials. You don't have to worry about warping and chipping, fading and staining, rotting and bothersome splinters.
This material is also insect-resistant, so no termites or other burrowing insects from harming the structural integrity of your deck.
If you would rather be spending your time on your deck rather than cleaning it, painting it, staining it and maintaining it, composites are the way to go. They last forever with little to no maintenance, and they cost less per year over their lifetime than wooden decks. Ask Dallas Deck Craft to see some composite decking samples if you want to build a long-lasting and good-looking deck in the Dallas area.