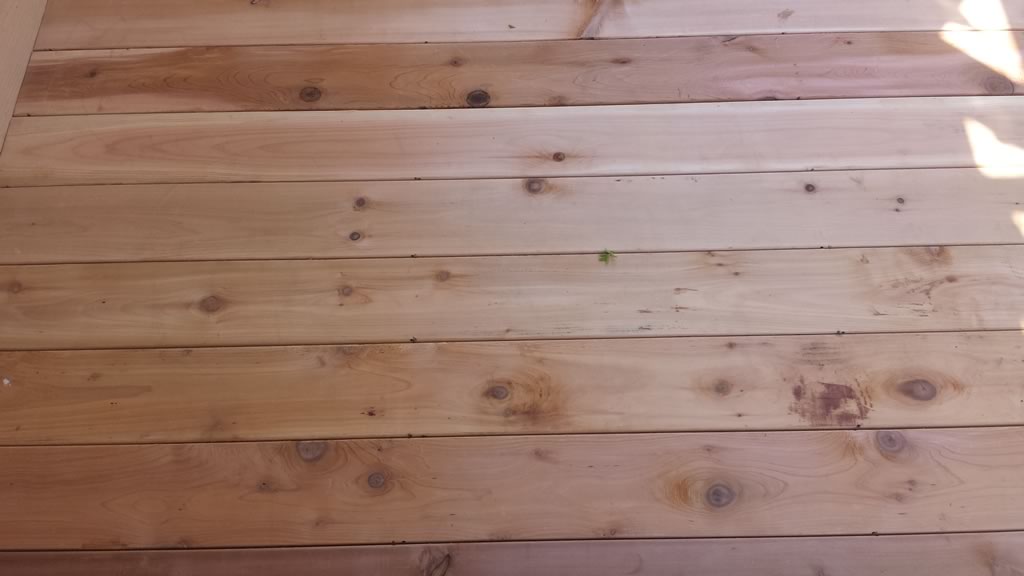 Why Choose Cedar Decking For Your Outdoor Living Experience?
Are you considering Cedar decking for your backyard outdoor living project? We are here to help you at DallasDeckCraft.com. You know you could save some money and go the pressure treated route. Or you could head in the opposite direction, and buy the more expensive composite deck or tropical hardwood deck like red balau or ipe that last a lifetime. So, given all the choices, why do so many homeowners choose cedar decking over pressure treated and other types of woods and plastics? Let's take a look.
Cedar Decking Benefit #1
Just looking at a cedar deck reveals what many homeowners feel is this decking material's biggest benefit-appearance. Cedar is absolutely gorgeous. And it gets that way naturally, not requiring any painting or staining to improve on its visual appeal. It is hard to find a better looking decking material.
Cedar Decking Benefit #2
Whether you build your own deck or hire a seasoned professional to deliver a quality product, you want your outdoor living experience to last. Cedar decking is naturally resistant to long-term ultraviolet exposure from the sun. This wood is also highly resistant to rot, mildew and mold. Cedar also resists bug and insect infestations. This means a hands-off, headache-free enjoyment of your cedar deck.
Cedar Decking Benefit #3
This type of decking material requires very little maintenance. Because it is so durable and naturally beautiful, you will not spend your time staining, painting or repairing your deck. You will instead spend your time enjoying it.
Cedar Decking Benefit #4
Although durable and long-lasting, cedar decking is rather lightweight compared to some other deck woods and plastics. This means it is easier to work with, which translates to a lower labor cost.
Cedar Decking Benefit #5
You would think because cedar is so lightweight that it may be porous. The opposite is actually true. Cedar decking will not absorb much moisture, even if you decide to leave it untreated. This means less cost over time, since you do not have to apply waterproof stains although if you want to maintain its natural color and look you may want to apply an ultraviolet ray blocker.
Cedar Decking Benefit #6
Beautiful and long-lasting cedar costs more money up front than some alternate plastic, composite and wood decking materials. But since it is such a low-maintenance and long-lasting material, you save money over time by less maintenance, repair and replacing parts of your deck.
Cedar Decking Benefit #7
Smart deck builders love working with cedar. How is this a benefit for you? Because this rugged and beautiful wood is so easy to handle and work with, it often means less time involved finishing your outdoor living experience. And because it is lighter in weight than many other types of decking, it does not create the physical strain that other woods and composites do. All this means that your decking contractor can give you a very attractive price tag for your cedar decking project.
If you would like to learn more about why cedar decking is so beneficial, and perfect for the Dallas, Rockwall and Collin county areas, give us a call today. You receive the benefit of our 35 years of deck building experience, and we provide you with a quote. But don't hesitate so we can get started delivering the benefits of cedar decking to you and your family sooner than later.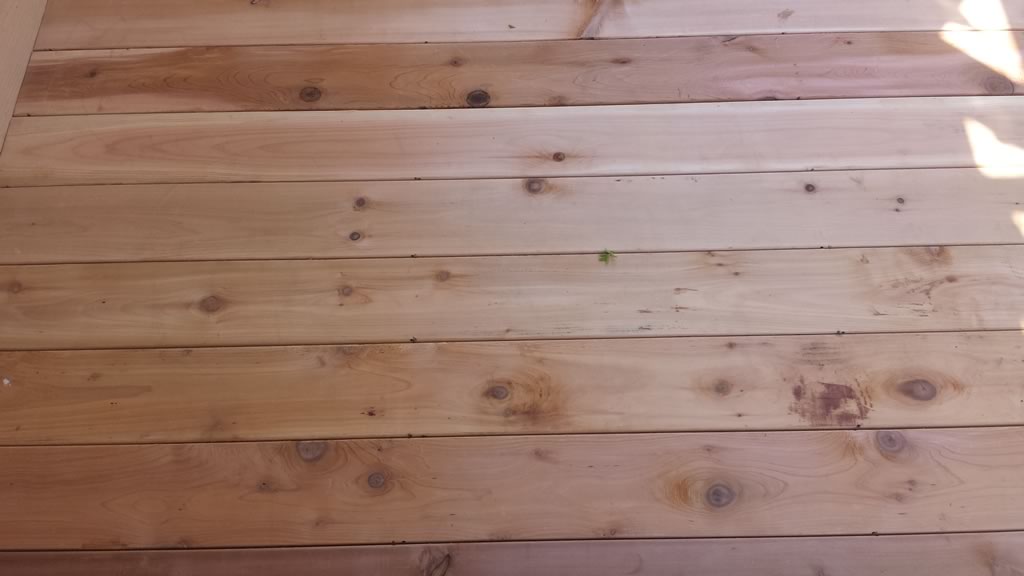 Cedar decking is a fantastic choice for any homeowner looking for an elegant and durable outdoor addition to their homes. As a decking lumber, cedar is a magnificent wood that lends a strong hint of the Pacific Northwest to residential and commercial exteriors, what with its cinnamon tones that weather gracefully into a rustic silver and its distinct fragrance that can last for decades.
Cedar wood for decks is not only beautiful; it has unique properties that make it highly resistant against rot, decay, insects and harsh elements. It is dimensionally stable, which means that it stays straight and flat after installation. With its consistent grain and density, it is less likely to cup, warp or twist.
Cedar decks are popular because of their unique and warm aesthetic quality, with a wide variety of hues and grain patterns to choose from. Freshly cut cedar boards are very fragrant and often come in different shades of peach, honey and light brown. When allowed to age, cedar wood will slowly turn into a deep silver gray patina.
A Closer Look at Cedar Decking
Cedar trees are an integral part of the forestry and decking industry and have been so for over a century. The trees are principally grown in the forests of the Pacific Northwest. They can grow up to 200 feet tall and diameter of up to 13 feet. They are known to live for a really long time, with one verified to be 1,460 years old.
While Western Red Cedar is the most popular choice, there are other types of cedar wood available. It is best to consult with a professional deck builder to discuss which type of cedar would work best for your deck building needs and budget. Western Red Cedar is known to be more resistant to rot than its Eastern counterparts. It is lightweight and easy to work with, and its heartwood exhibits minimal shrinkage.
Eastern White Cedar, on the other hand, is not as common as red cedar. It is moderately soft and lightweight and like most cedars, it is naturally resistant to insect infestation and rot. The heartwood has a reddish, light brown tinge that turns darker when exposed. It has an ability to hold nails better and finishes rather well.
Another type of ideal for cedar decking is Atlantic Cedar, which has a distinct aromatic odor and a light brown heartwood. It also has a straight grain and fine texture, easily workable with tools, resistant to decay, holds paint well, shrinks minimally and finishes very smoothly.
Advantages of Cedar Wood for Decks
Cedar has properties that are similar to redwood, mainly because they are closely related, however, cedar is tougher and more flexible than redwood. This means that cedar is less brittle and can flex more without shattering unlike redwood. It also has less density and contains less natural oils so it absorbs and accepts stain much easier. There are many benefits to using cedar in deck building. Let's take a closer look at some of them.
Costs—cedar decking prices are considerably lower than redwood and other exotic hardwoods. It is even less expensive than composite decking, although the prices may vary from one region to another.
Highly available and abundant—cedar is available in almost all lumber stores in the country. This tree is abundant in forests and its commercial logging is responsibly managed by the government, so that it is very environment friendly.
Resilient and reliable—the cedar wood in itself is naturally permeated with particles that make it resistant to moisture, ultraviolet rays, and insect damage. This is why cedar as a species has survived even in moisture-heavy environments.
Low and easy maintenance—cedar decks are very easy to maintain. Because the wood has low levels of pitch and resin, it can easily absorb stain or finish.
Natural heat insulation—the surface remains cool even in hot days, so the deck is more foot-friendly
Distinguished, elegant and rich—the color of a red cedar decking is unique, deep and luxurious. When freshly cut, the wood takes on an amber or pinkish hue, but by the time it is ready to be used for the deck, it has turned into a reddish brown cinnamon color. You can choose to retain its natural, elegant color with finishes or stains, or you can let it age to a silver grey color for a more rustic feel.
Cedar decks provide both practical and aesthetic benefits to any property and increases its value as a whole. When building a cedar decking, it is important to work with a professional deck contractor who has extensive experience in working with cedar, this way, you would get only the best.